Last Updated on February 15, 2022 by
No stoner smoking kit is complete without a rolling tray. Yes, you can use a shoebox top to break up and roll your weed, but it has drawbacks. Boxtops will break and your weed will get stuck in the folds. Rolling trays are not only a necessary smoking accessory, but it's also a great place to store all of your other smoking supplies. If you are shopping for a rolling tray but are not sure what would fit you and your lifestyle best, then you've come to the right place. Whether you're looking for something basic or something more elaborate, we're going to go over the top 5 best rolling trays on the market and review and compare them.
Top 5
---
10 Best Rolling Trays in 2022
---

This is your classic rolling tray made by one of the biggest companies that produce smoking accessories. At 7 x 11 inches, it's just big enough to fit comfortably on your lap, yet small enough to store in an inconspicuous spot.
Quality
Raw is known for producing high-quality smoking accessories and this is no exception. Made of durable, non-flexible metal, you can rest assured that you will this tray will last a long time.
Bundle
Not only do you get a great rolling tray, but this bundle comes with an eco-friendly cigarette roller that is made from hemp plastic and 2 packs of king-size rolling papers.
Cost and Value
Not only is it one of the lowest cost items on the list, but you get everything you need to enjoy your smoke. Once you figure in the cost of the rolling machine and papers, you're basically getting the tray for free.
Pros
Made of good quality metal
The bundle comes with everything you need
Great price
Cons
The tray may be too small for your taste
---

This sleek black tray is full sized and comes in with the sweet design. It's big enough to fit all of your smoking supplies in one spot and can easily be stored in a drawer or any other discreet spot.
Design
This all black tray features a golden marijuana leaf in the center that really makes it stick out. It also features a matte finish that makes the surface nice and smooth so you can roll with no problems.
Build
This rolling tray made from aluminum that is .35mm thick, making it strong and durable yet light surprisingly light. The curved corners are also designed to make sure that herbs can be easily moved around.
Cost and Value
This rolling tray comes in the middle of the pack price-wise but is well worth it. Not only is the design unique, but it comes as a bundle pack with a pack of papers, a rolling machine, and a plastic loader.
Pros
Comes as a bundle pack
Nice design
Made of aluminum
Cons
---

This is not your classic rolling tray, but it has everything you need and more. If you're the type of person that likes everything to be organized and in its own place, then this is the perfect tray for you.
Design
This uniquely designed rolling tray has a spot for all of your smoking accessories. It's a great way to store your baggie, lighter, papers and whatever else you may use to have an enjoyable smoking experience.
Durable Plastic
The great thing about plastic compared to metal is that you never have to worry about dings and scratches. The plastic used for this tray is so strong that there is even a removable section that can be used as an ashtray without the worry of it melting.
Cost and Value
This tray is built tough and dependable so you can sure that it will last a long time. If you want something different than the classic rolling tray, this is a good buy as it has plenty of space and compartments for all your supplies.
Pros
Designed to hold all your smoking supplies
Made of durable plastic
Built-in ashtray
Cons
---

If a normal rolling tray just won't cut it for you and you prefer a more natural look, then this rolling tray may be just what you are looking for. It looks so nice that it can even be mistaken as part of the décor.
Style
Made of all-natural bamboo, it features an all-natural finish in two different colors. It also has slots for your smoking supplies and a magnet that holds lighters, great for those of us who are constantly losing them.
Quality
This eco-friendly tray is waxed and hand-painted and foregoes all harsh chemicals and dyes. The all-natural bamboo is incredibly durable and lasts longer than most plastic and metal trays.
Cost and Value
This is the most expensive tray on the list, but not by much. The price is worth it when you factor in that you are getting a tray made from all-natural materials and built to last.
Pros
Made from natural bamboo
No chemicals or dyes
Compartments for smoking supplies
Cons
Smaller than a normal size tray
---
This classic RAW bundle with an inventive spin is sure to kick-start your day or cool down your evening. What makes this product unique? Have the quality guarantee of RAW with a groovy mini rolling tray in association with Leaf Lock™
What's included?
RAW 1 1/4 Rolling Papers
RAW 79mm Cigarette Roller
RAW Pre-Rolled Tips
Leaf Lock Gear™ Rolling Tray (Color Swirl in Mini)
Hippie Buttler™ Kewl Tube
Quality
With Leaf Locks guarantee and RAW's exemplary record, you can't go wrong with their organic materials and trusted
Bundle
With a vivid Leaf Lock tray, you also receive this hefty bundle of rolling papers, a cigarette roller, Pre-rolled Tips and of course a classic "Kewl Tube"
Cost and Value
Featured in Amazon Recommended, you are sure to be satisfied with this low-end kick-starter bundle.
Pros
A RAW X Leaf Lock tray means an exceptionally high-quality rolling tray
Low price for a high-quality bundle
Unique "Color Swirl" design
Cons
Tray size may serve a little too small for your social gatherings
---
Take a trip to the sixties and maximize your high with a supersized Rolling Paper Depot tray and a classic RAW bundle
What's included?
RAW King Size SupremePapers
RAW 110mm Cigarette Roller
RAW Pre-rolled Tips
Rolling Paper Depot™ Rolling Tray in "Swirl"
Rolling Paper Depot™ Kewl Tube
Quality
RAW never fails to deliver high-quality smokes and Rolling Paper Depot has exceptional reviews (4.6 on Google Reviews.) RPD, of course, having a huge selection of rolling trays and designs- so you know you are looking in the right place for a unique rolling tray.
Bundle
With a 60's swirl tray pattern, you also receive a jumbo cool tube to make sure you last through the night. You also get pre-rolled tips, a cigarette roller- and what no roller should come without King Sized Supreme paper.
Cost and value
At a mid-range price, this bundle is on the more expensive side, for what you get- but the quality never fails.
Pros
Lifted Edges for your overly confident yet clumsy friends
Plus-sized everything to maximize your high
Unbleached and natural rolling papers
Cons
Tube color is not guaranteed
---
At 13.5×11" this sexy upgrade to the classic RAW tray comes at only $10 apiece. Classic, timeless- sometimes a tray is all you need.
What's included?
One RAW "babe" rolling tray
Quality
Made from stainless steel RAW never fails to deliver on its flawless finish and no-fuss design
Bundle
There is no bundle with this piece, unfortunately, but its organic hemp color scheme means it will sit well with any RAW items
Cost and value
For a large-scale tray with RAW's track record and Wake&Cake's seal of approval and low price, you won't be disappointed.
Pros
Its large size means it's perfect for larger rolls and less spillage
Cons
Does not come as a bundle
---
Whether medicinal or not, this rolling tray is an artistic and comedic delight, as the highest-rated rolling tray on Amazon!
What's included?
7.5″ x 11.25″ metal rolling tray
Stainless steel
Raised sides and rolled edges for spills
Quality
The MJ Prescription theme is completely previously unseen, while the stainless steel is a lightweight yet sturdy material which is less likely to break.
Bundle
This metal rolling tray, unfortunately, does not come as a bundle, nor are there any other products with the same theme
Cost and value
With this tray being the highest-rated, affordable tray on Amazon, can you really go wrong? And while you're at it, grab yourself a Honey coupon which is currently available
Pros
Completely unique and artistic
Sturdy materials
Honey code available
Cons
No bundle available!
Small price but small size
---
This rolling bundle is like no other, as one of the highest rating bundles on Amazon from Zig-Zag, one of the oldest paper companies in the US, with Leaf Lock you are guaranteed for a long-lasting tray, yet a quick-burn through the rest. Sure, it's aimed at tobacco users- but with a little creativity this could be your next showcase- plus your friends definitely won't have it.
What's included?
Zig Zag Orange Rolling Tray (Measures 10.75″ X 6.5″)
Zig Zag 1 1/4 Rolling Papers X3
Zig Zag 78mm Roller
Leaf Lock™ Gear Smell Proof Tobacco Pouch
Quality
This French originated, American produced company is one of the first of its kind- if it's lasted over 160 years, I'm sure your tray just about can too!
Bundle
In this bundle, you are looking at one 10.75" X 6.5" tray, with not one, but THREE rolling papers, a cool 78mm roller for those small but sweet babies, and a classic Leaf Lock tobacco pouch
Cost and value
As yet another upper mid-range price, you are looking at a slight steeper cost than the rest. However, with only one remaining product before restock, you can be sure this baby is in high demand.
Pros
5-star review on Amazon
Leaf Lock Odour Proof sealed bag can store more than just tobacco
Cons
Aimed at tobacco mixes
Much higher bundle price than average
---
This all in one rolling tray is of the highest caliber. Its organic yet sleek design is oozing in class- with pros in mind. If you are looking for an all-in-one vacation station, then look no further- or up at your phone with the built-in iPhone stand.
What's included?
Grinder slot
Phone or tablet slot- watch while you roll!
Rolling paper dispenser
Quality
This tray is made from the highest quality reclaimed wood- all sourced here in the USA. At 12oz you know this tray is well made and sturdy, and due to its 100% bamboo rayon material, you can be assured it will last!
Bundle
This station does not come as a bundle, because it already is in itself! Buy additional Hustle Trees papers and rollers when they restock next week!
Cost and value
As the most expensive tray in this list, you are looking at a full, compact rolling station made from reclaimed wood. While it might not be easy on your pocket, it certainly is for the environment
Pros
All-in-one feature means no mess and no stress
Good for the environment
Cons
Low stock
A higher price for a less flexible tray is a little steep for some
---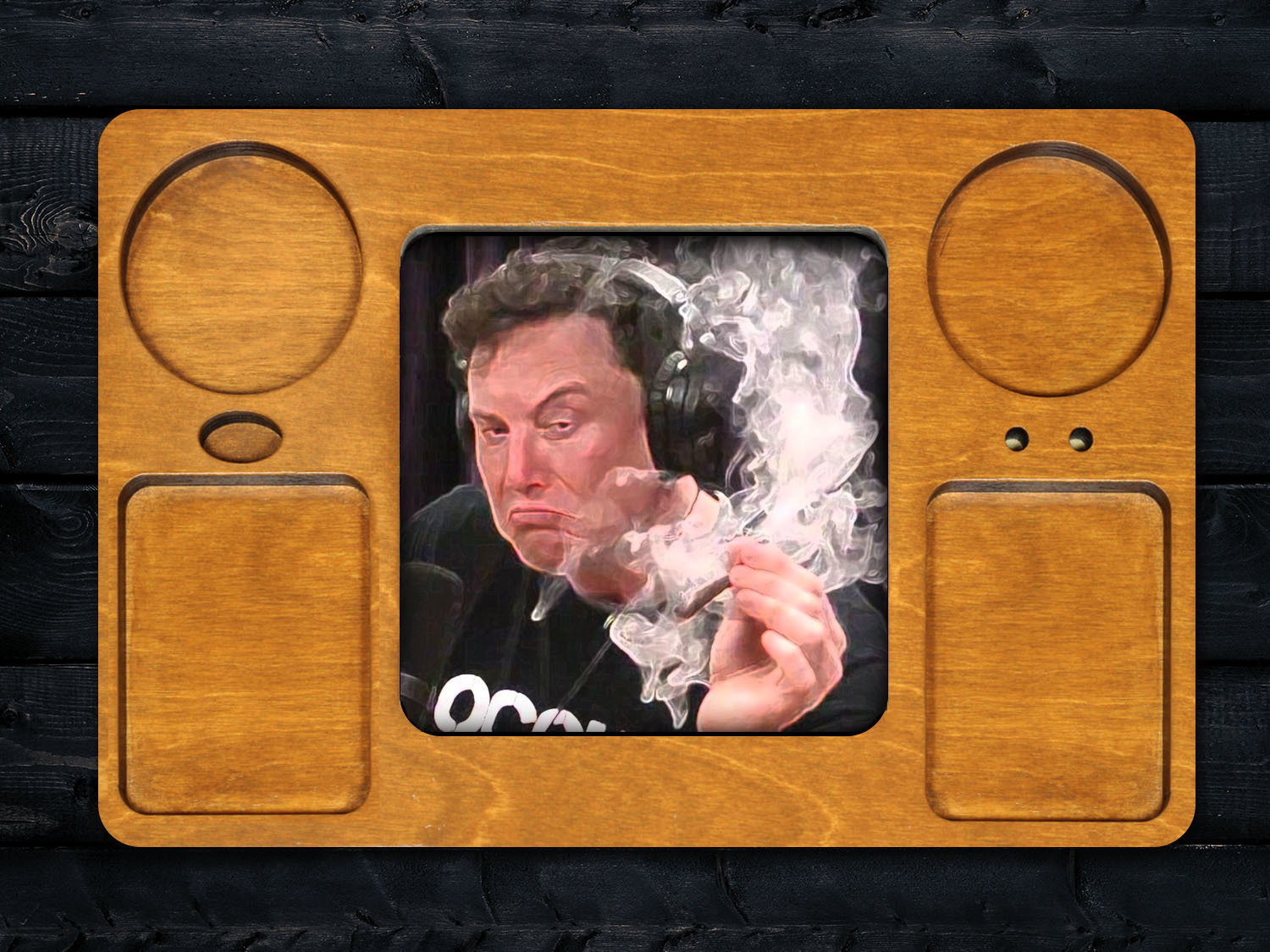 Large Tray Size 14 x 9 x 1
Hand Made Premium Wood With Extra Holders For Grinders, Lighters, Cups, Etc
Gloss Print Direct On Wood
Discreet Packaging For All Shipments
---
The canna-accessory we all need is here — kinda. This is the world's first magnetic, illuminated and smell-proof rolling box brought to us by ARCA Labs. Although you cannot run out right this second and purchase yours, you can; however, run out right this second and pre-order your box, set to be produced and delivered in the coming months. ARCA Labs has creatively delivered a cutting edge system that not only protects your buds, but savors it in the most effective of ways.
Your Support
We may want the magic box, but wouldn't it be rewarding to be a participant in the uprising of their production process? The concept funding process comes before the development process and this is where you can contribute to the evolution of the product. You can choose to pre-order your box, or support the cause by snagging up a custom ARCA Labs hoodie.
Why You Should Support
This rolling box rests on the idea of the smoker's convenience. Your rolling tray, grinder, and papers can often be strung around your coffee table or countertops. Imagine you just ground up your weed and can't find your papers. Or, you just bought your cannabis and can't find your grinder because everything's just 'temporarily misplaced'. The idea of eliminating that mini heart attack and allowing you to keep everything in one, specific location, can smooth over the pre-light process.
Make Rolling Up Easy
Just imagine, you've come home from a long day and you're ready to roll up and relax. You open your box to a soft LED light that invites you in. You snag a paper from the integrated holder, place it in your roller, and lay your freshly ground herb in. You finish your roll, place the holder back in the box, and close the magnetic lid — sealing off the scent and protecting the integrity of your buds.
Pros
4-part grinder included
Blunt nosed scissors double as a pokey
Odor-proof silicone seal
Removable mesh screen and catching tray
Convenient LED Light
Cons
Pre-orders only
Estimated shipping – January 2022
---
Our Conclusion
Rolling trays have evolved over time and now come in a variety of different sizes, shapes, and colors, which makes finding the perfect one a little more difficult. You may want to think about what your needs are when making this decision. Do you travel a lot? Do you just want something basic or do you prefer something with a little more flair? Whatever you are looking for, the trays above can meet all of your needs, which is why they are the best on the market.
---
More About Rolling Trays
---
Do I need a rolling tray?
If you are looking for a way to stop spilling weed grinds on your floor- or having to pick them out of your carpet before a certain someone comes home- then look no further! You have found the hottest yet timeless stoner accessory, a rolling tray. Of course, you know these struggles if you have ever changed your sheets and find buds flying everywhere. You ask yourself how they managed to find their way into crevices sometimes meters away from your smoking station- and if this is often the case, then a rolling tray is your next must-have. Originally used for tobacco, rolling trays have now found its new purpose with sweet Mary Jane and are a no mess-no fuss, flat surface to roll, grind and rest your weed with ease. First spotted in the early '80s due to the emergence of mainstream shag tobacco use, rolling trays have become the most reliable way to roll up and smoke up seamlessly. Often pieced together with matching accessories or magnetic lids, and at an extremely affordable price, you can be sure to add a rolling tray to your current smoke kit.
Rolling trays come in all shapes and sizes, are portable and most of the time extremely durable and lightweight. You can take them with you wherever you go and know if at some point you desire a smoke up- you aren't going to mess up your friend's car while they hit a speed bump.
What kind of rolling tray do I want?
So, you want to ask yourself, what do you want from your tray? Are you a nature nut who wants all organic materials? Or are you a design devotee whose eyes widen at the sight of your two loves- weed and artwork? How about an all-in-one station fit with cone holders and a paper dispenser? Lucky for you, there is an excess of companies selling all kinds of rolling trays and/or bundles to suit your every need!
There are many kinds of trays to roll on, and before we get started on their materials, let's take a dive into sizes and shapes. You can buy mini trays perfect for a quick single, and large jumbo-sized trays perfect for large rolls, or covered trays to keep your kit contained and easy to carry around. You may notice curved corners -no creases are a must to stop bud bundles and assist one-wipe cleaning. Feel like rolling up in bed? Raised edges stop items slipping- we have all witnessed our herb grinder split open all over our white carpet. Smaller or "mini" trays range from $8-$12 and around $16 for a bundle. They are super useful and travel compatible, however, some mini trays have vertical edges, making it much more difficult to roll accurately- but at least you rest assured there will be no spillage.
What material is best?
There is a wide selection of different tray materials. RAW and Hustle Trees have a fine range of bamboo or pre-loved wooden trays, usually with either a magnetic closure and/or a cradle. They are more on the expensive side ranging from $40 to $50 a piece but are eco-friendly, high quality and extremely functional. The downside is less portability, but it is a seamless addition if you are looking for a makeshift vacation station to smoke up and keep all your accessories contained.
Bundles and accessories
Bundle trays are an easy way to kick start your high and keep everything collected in one place, especially if consistency and quality is important to you. You can buy a RAW tray and bundle up with RAW essentials such as unrefined cones, rollers, natural papers, and organic hemp pouches. Bundle sizes are usually relative to products included- so a large tray typically includes jumbo rollers and papers etc. which is perfect to keep all trip-kit items in one place. Smaller trays are great to pack in your rucksack for on the go folk, but you may struggle just a tad with a smaller working space. A couple of companies such as RAW and Hustle Trees produce a magnetic tray cover from small to extra-large, perfect to conceal your kit in case of emergency. The most popular, affordable rolling tray is metal with a coating on top for smooth wiping. Rolling trays also come in glass and wood but they lie on the more expensive side. Stainless Steel and aluminum are proven to have the best finish, they tend to have a smooth glossy quality or occasionally matte.
Where can I buy one?
If you are looking for all-natural, reliable trays (which also come with a bunch of accessories and bundled with papers or rollers, non-refined and bleached) then RAWthentic.com is your place. Many bundles collaborate with other brands so be mindful if you really want all-natural, or to stick with an aesthetic. We recommend RAW products and accessories for all-natural enthusiasts. Kewl Tubes, however, are usually from other brands due to its plastic casing. RAW also produces hard-case travel pouches with foldable trays. Browse products from Leaf Lock for quality odor-free pouches and a fine selection of simple but essential products and accessories for your high. Rolling Paper Depot sells products for your every need but is most famous for its unique tray designs and XXL sizes. Lionhead is known for its smooth, minimal designs. They only produce a few designs as they serve quality over quantity- and you will know what I mean when you see the silky matte finish.
Whatever your style, rolling trays are a must-have, a crucial addition to your smoke-up station and a stylish way to prevent easy spills.